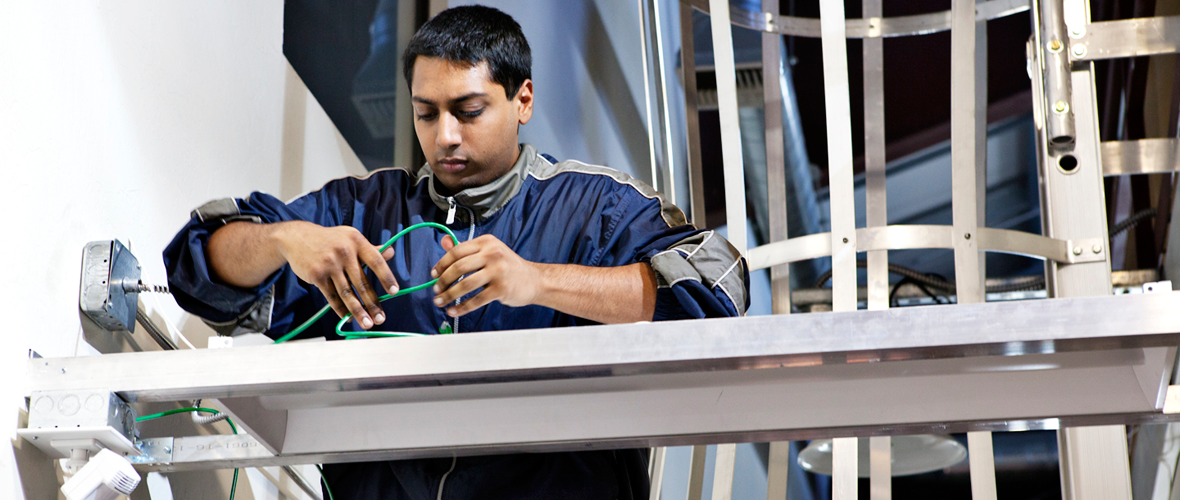 The California Advanced Lighting Controls Training Program (CALCTP) provides training and certification to electricians, contractors, acceptance test technicians, building operators and managers. The program is increasing the use of energy-saving lighting controls in commercial buildings and ensuring they are properly installed and commissioned for maximum effectiveness.
CLTC maintains and expands the training curriculum, keeping CALCTP current with lighting technology and best practices. The program includes intensive, hands-on laboratory work that allows students to practice the technical skills they will need in the field. To date the program has successfully trained and certified more than 2,200 electricians and 90 electrical contractors, statewide. It has 97 trained instructors teaching at 32 training centers throughout the state, including utility training centers, California Community Colleges, and electrician apprenticeship training centers. More than 470 contractors have taken at least one CALCTP class and are aware of the program. Over 65 mid-level managers have completed the Systems Course, and over 250 senior-level managers have taken the Business Development Course.
The CALCTP training curriculum is comprised of three different focuses:
Installers: the Installers curriculum is focused on control strategies and their implantation through basic to building-wide lighting systems. Throughout the program, students will learn about lighting concepts, technology, and application; wiring and communication architecture; lighting controls; and other emerging concepts. Students will build their understanding of the system's based approach through compounding lab exercises that start with basic manual controls, for example, and add increasing control and communication layers to achieve a complete high-level lighting control solution.
Acceptance Test Technicians: The Acceptance Test Technician training program (CALCTP-AT) is designed to support Title 24 requirements for acceptance testing and certification. Effective July 1, 2014, certain lighting controls and devices must be certified as properly installed and operational before occupancy permits are issued for non-residential projects. The CALCTP-AT program includes courses for both CALCTP-certified general electricians and other lighting professionals such as lighting designers, architects, commissioning agents and professional engineers. Learn how you can become a CALCTP-AT certified technician or contractor.
Building Operators: The goal of this program is to train commercial building operators, engineers and managers on the many important aspects of advanced lighting control systems as a means to improve overall building health, visual appeal and energy efficiency. Students will learn fundamentals of lighting; lighting energy-efficiency with emphasis on lighting control strategies, auditing, lighting control maintenance and system troubleshooting. The CALCTP—Building Operator Program (CALCTP—BOP) is currently in development and is expected to launch in early 2016.
CALCTP Goes National
California's statewide program has proven so successful that it is now being adopted in other states as the National Advanced Lighting Controls Training Program (NALCTP). Early NALCTP adopters include Washington, Michigan and Illinois. CALCTP Co-Executive Chairman Bernie Kotlier says CALCTP will license the curriculum at no cost.
The CALCTP team consists of: the International Brotherhood of Electrical Workers / National Electrical Contractors Association (IBEW / NECA), California's electric utilities, the California Lighting Technology Center, UC Davis (CLTC), IBEW/NECA Joint Apprenticeship Training Centers (JATC), the California Community College (CCC) system, the California Energy Commission, and lighting control manufacturers. The U.S. Department of Labor grant that supports the program is being administered by ICF International for IBEW/NECA."
Principal Investigator: Michael Siminovitch
Project Type